DONATIONS FROM USA
If you live in the United States, you can donate to Jocotoco Conservation Foundation, a 501(c)(3) organization, and thus make your donation tax deductible. Simply select one of the projects listed above and proceed with your donation online or by check. As soon as we receive the funds, we will provide you with an official tax receipt.
DONATIONS WITH YOUR PURCHASES
If you are about to buy any product at amazon.com, just go to this link:
https://smile.amazon.com/ch/83-2027203
and 0,5% of your purchases will go to Jocotoco.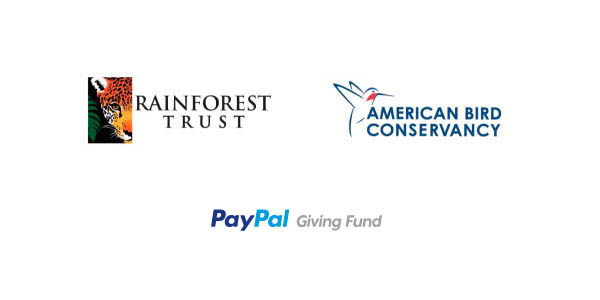 OTHER OPTIONS TO DONATE FROM USA
RAINFOREST TRUST
Make your donation by entering RainForest Trust. You can also contribute with bonds or investments. Please contact Leslie VanSant at leslie@rainforesttrust.org
AMERICAN BIRD CONSERVANCY
Make your contribution by PayPal or credit or debit card through the American Bird Conservancy website.
PAYPAL GIVING FUND
Make your contribution through PayPal with zero commision by visiting the Jocotoco PayPal Giving Fund.
Contact us directly at development@jocotoco.org if you have any questions or to coordinate the best way to make your donation.
DONATIONS FROM EUROPE
WORLD LAND TRUST (UK)
(Please indicate that your donation is destined for the Jocotoco Foundation)
By postal mail: Blyth House, Bridge Street, Halesworth, Suffolk, IP19 8AB, United Kingdom.
Online donations:
Make your donation by entering
World Land Trust
By telephone: Call 01986 874 422 during working hours.
RAINFOREST TRUST (UK)
Artenschutzstiftung Zoo Karlsruhe (Deutschland)
Adresse: Ettlinger Str. 6, 76137 Karlsruhe
Bank: Volksbank Karlsruhe
IBAN: DE07 6619 0000 0000 2121 21
BIC: GENODE61KA1
Überweisungszweck/Referenz: Fundacion Jocotoco Landkauf
HHS Schaefer Stiftung (Schweiz)
Account: CH86 0483 5171 1524 2100 0
BIC: CRESCHZZ80A
Bank: Credit Suisse
Bank Address: Credit Suisse, CH-8070 Zürich
Stiftung Address: Dätwylerstrasse 4, CH-6460 Altdorf, Scweiz
DONATIONS FROM CANADA
INTERNATIONAL CONSERVATION FUND OF CANADA
By postal mail: Chester NS B0J 1J0, CANADA, P.O. Box 40
(Please indicate that your donation is for the Jocotoco Foundation)

Email: carlos@icfcanada.org
(Please specify "Jocotoco" in the subject line of your email).
For online donations: Go to International Conservation Fund of Canada
(In the "Designated Purpose" section select Ecuador: Jocotoco reserves)